How to Repair Sun Damaged Skin
Posted on October 23, 2017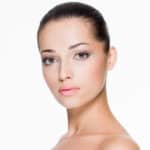 Excessive sun exposure speeds up your skin's aging process, resulting in skin discoloration, wrinkles, or a leathery texture. A lifetime of sun damage can really take a toll on your skin's appearance — especially if you don't always protect yourself using a high SPF sunscreen.
A variety of treatment options are available to repair sun damaged skin and restore your skin's natural appearance. In this post, Drs. David Rankin and Dev Vibhakar of Aqua Plastic Surgery offer their recommendations for repairing sun damaged skin.
Laser Treatment Options for Repairing Sun Damage
Laser treatments can be used for a variety of purposes, including hair removal, skin tightening, and reversing sun damage. Two common laser skin treatment options for sun damage are Fraxel Laser treatments and laser skin resurfacing.
Fraxel Treatments can be used to treat age spots, irregular texture, wrinkles, and other skin problems caused by sun damage. The Fraxel Laser uses precisely targeted laser beams to eliminate damaged skin cells and stimulate the growth of new skin cells.
Laser skin resurfacing can also be performed using a CO2 laser. These lasers tend to be more appropriate for older patients, deeper wrinkles, and more severe scars. However, every patient's skin is different, so consult your plastic surgeon about which option is right for you.
Chemicals Peels Can Give You a Fresh Look
Chemicals peels such as the Vitalize Peel® from SkinMedica® are a fast and effective way to treat sun-damaged skin. The treatment can be performed in as little as 20 minutes to remove the outer layer of skin to allow new skin cell growth.
Chemical peels are also a good choice for people who aren't good candidates for laser skin treatments, such as patients with darker skin tones.
Use the Very Best Medical-Grade Skin Care Products
Medical-grade skin care products offer a higher concentration of active ingredients than you will find in over-the-counter skin care products. This means you get more powerful results — whether you need to repair damaged skin or protect your skin from further photoaging.
Skin care products such as the Obagi Nu-Derm® System or Kinerase Pro+Therapy® skin care products can be used to address a variety of skin care needs. Talk to your plastic surgeon about developing a skin care regimen that's personalized for your unique skin type.
Learn More about Your Skin Rejuvenation Options
South Florida plastic surgeons Drs. Rankin and Vibhakar have years of experience helping patients undo the damage done by photoaging. To discuss all of your skin treatment options with one of our board-certified plastic surgeons, call our Jupiter office at (561) 776-2830 or our Ft. Lauderdale office at (954) 564-3832.