Meet Dr. Allyson Deziel – Plastic Surgeon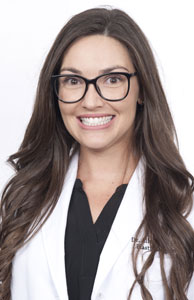 Dr. Allyson Deziel is a distinguished cosmetic plastic surgeon with facial, breast, and body surgery expertise. She offers various high-end services, consistently delivering exceptional patient experiences. Her commitment lies in providing her patients with beautiful, natural-looking results that accentuate their unique characteristics. To achieve this, she tailors a comprehensive treatment plan for each individual, considering their specific objectives and anatomical considerations. Her treatment plans span from suggested aesthetic treatments to the prescription of medical-grade skincare products.
Dr. Deziel completed her medical education at the University of Florida, Gainesville. She later received her medical degree from the University of Central Florida College of Medicine, graduating as the class valedictorian. While in medical school, she was inducted into the esteemed Alpha Omega Alpha academic honor society and received numerous accolades, including the "Academic Excellence Award," the "Outstanding Senior in Surgery" award, and the "Faculty Choice Award for the Class of 2015."
Continuing her medical journey, Dr. Deziel completed an integrated plastic surgery residency at the University of Missouri. During her residency, she undertook and published multiple research projects in diverse fields, such as aesthetic surgery, hand surgery, and craniofacial surgery. In her final year of residency, she served as the Chief Resident, working closely with a globally recognized leader in plastic and reconstructive surgery and former President of the American Society of Plastic Surgeons.
Dr. Deziel remains dedicated to providing top-quality care through commitment to continued education for advancement on the latest plastic surgery techniques to ensure her patients receive consistent, high-quality results. She is a member of the Medical Executive Committee at Jupiter Outpatient Surgery Center and holds the position of Medical Director at Hamilton Aesthetics of The Palm Beaches.
Dr. Deziel's artistic eye with precise attention to detail and proportions, which she combines with advanced technical skills to achieve exceptional results. Her warm and compassionate demeanor further enhances the patient experience, making every visit comfortable and welcoming.