Juvéderm Injections in Jupiter & Miami
It is a common fact that as we grow older, our skin does too. In the past, the resulting wrinkles and lines were something we just had to live with. However, with the development of JUVÉDERM®, this is no longer the case!
JUVÉDERM® is a smooth gel which contains hyaluronic acid. Hyaluronic acid is a substance that occurs naturally in our skin and is essential to hydration. It is important in keeping the skin smooth, soft and free of wrinkles. As we age, we gradually lose this substance, promoting accumulation of wrinkles and an aged look.
JUVÉDERM® replaces this lost hyaluronic acid through multiple tiny injections performed in the office. The procedure takes approximately 10 to 30 minutes and can be performed using topical numbing creams or through small dental nerve blocks. Results are seen immediately and typically last from 6 to 14 months depending on the area injected.
Common areas treated with JUVÉDERM® include the laugh lines around the mouth, between the brows, or the upper and lower lips. Our doctors often inject JUVÉDERM® into the upper and/or lower lips to give more fullness (lip augmentation). JuvÉderm can also be used together with other products like Botox to complete the final aesthetic outcome.
There are three types of JUVÉDERM® used which vary on the thickness of their particles:
JUVÉDERM ULTRA®- This has the smallest particle size and is used primarily for the improvement of very fine lines and wrinkles.
JUVÉDERM ULTRA PLUS®- This has a medium particle size and is used to plump up lips, and for deeper facial wrinkles.
PERLANE- This has the largest particle size and is used for the deepest wrinkles and folds. Perlane can also be used to plump up the cheeks.
Our doctors will discuss with you which product is best to achieve your desired result.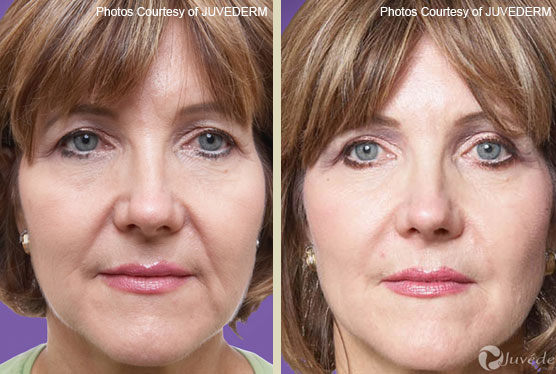 JUVÉDERM® Injectable Gel is a popular FDA-approved soft tissue filler that can smooth the appearance of lines and wrinkles. This versatile dermal filler can also be used for natural-looking lip enhancement or to add contour to the cheeks or chin.
JUVÉDERM® Injectable Gel is composed of hyaluronic acid, a substance which exists naturally in the body. A component of healthy skin, hyaluronic acid is responsible for keeping the skin hydrated. Unlike bovine collagen, JUVÉDERM® Injectable Gel requires no allergy testing prior to treatment.
Men and women of any color skin may be suitable candidates for treatment with JUVÉDERM® Injectable Gel. At Aqua Plastic Surgery, experienced cosmetic surgeon Dr. Rankin, Dr. Dev and Dr. Bauermeister administer JUVÉDERM® Injectable Gel using a very fine needle. This minimizes discomfort and allows the doctor to precisely target the areas of the skin that require treatment.
Results are often apparent after only one treatment with JUVÉDERM® Injectable Gel and can last up to six months. Repeat treatments may be recommended to maintain smooth, youthful, healthy-looking skin. Often, our patients experience enhanced results by combining JUVÉDERM® Injectable Gel with BOTOX® therapy.