Skin Care Treatments & Products in Jupiter & Miami
We realize that maintaining beautiful skin can sometimes take hard work. At our South Florida plastic surgery practices, we do all the work to help your skin achieve a healthy, natural glow. In addition to our laser treatments, we provide our patients with a multitude of options for personalized care. A pampering facial is a simple, relaxing way to promote the skin's vitality, while an IPL® Photofacial, microdermabrasion, or a chemical peel can provide more dramatic results. For patients who wish to restore a healthy look to skin afflicted by spider veins, Dr. David Rankin, Dr. Dev Vibhakar and Dr. Adam Bauermeister offer both sclerotherapy and laser vein removal.
Microneedling with PRP
CO2 Laser Resurfacing
Chemical Peels
At Aqua Plastic Surgery, we are pleased to offer our patients the Vitalize Peel® from SkinMedica®. Perfect for people with acne scars, large pores, age spots, melasma, or sun damage, the Vitalize Peel® is a safe, effective procedure that requires no downtime. A carefully blended solution of alpha-hydroxy acids, beta-hydroxy acids, resorcinol, and retinoic acid removes the skin's outer layer, encouraging the growth of fresh, new skin cells. Brighter, clearer skin can be achieved in only about 20 minutes with the Vitalize Peel®, and visible improvement is possible with just one treatment. Optimal results are generally attained after three to six treatments, depending on the original condition of the skin.
IPL® Photofacial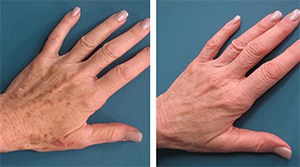 Fine lines, photoaging, hyperpigmentation, and redness associated with acne and rosacea can all be treated with IPL® Photofacial. Using intense pulses of light, IPL® Photofacial penetrates the skin to stimulate the production of new collagen, reduce broken blood vessels, and even out skin pigmentation. The non-invasive nature of IPL® Photofacial allows patients to return to their normal activities immediately. Care should be taken, however, to protect treated skin from the sun.
Skin Care Products
The power of an appropriate skin care routine is not to be underestimated. By cleansing, toning, moisturizing, and protecting the skin, a person can maintain the moisture, balance, and nutrient level essential for healthy, beautiful skin. At Aqua Plastic Surgery, we offer two of the best medical skin care lines available on the market today.
Alastin
Coming Soon!
Contact Aqua Plastic Surgery
At Aqua Plastic Surgery, we offer a wide variety of treatments to promote the health and vibrancy of our patients' skin. Our treatments are tailored to each patient's unique needs and aesthetic desires. To learn more about our skin care solutions, please contact our practice.