Get Your Skin Ready for Summer Now
Posted on April 24, 2018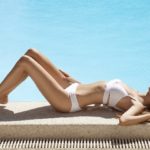 The rise in temperature is a sign that summer is almost here — and the perfect reminder that it's time to pay attention to your skin. Even if you don't plan on hitting the beach this summer, you're still going to want your arms, shoulders, legs and face to look healthy, glowing and radiant. At Aqua Plastic Surgery, we offer a number of non-surgical skin care treatments that can help get your skin ready for summer. Here, our trusted plastic surgeons Drs. David Rankin and Dev Vibhakar share our top treatments for glowing skin.
Chemical peels are one of the most popular skin treatments we offer to restore a youthful and healthy complexion. Using a carefully blended solution of retinoic acid, hydroxyl acid and other ingredients, chemical peels remove the dead cells responsible for the skin's dull and dry appearance, and trigger the body's collagen regeneration process. This in turn creates healthier and younger-looking skin. Chemical peels can be completed in less than 30 minutes and require no downtime. They vary in strength and can be used to treat acne scars, age spots, melasma and sun damage.
For more dramatic results, consider laser skin resurfacing. Laser skin resurfacing uses pulsating beams of light energy to vaporize damaged skin cells on the outer layers of skin. The body responds by producing younger and healthier skin cells. Laser skin resurfacing can be used to treat fine lines, wrinkles, acne scars, sun damage, age spots, and uneven skin tone/texture.
Want smooth, hairless skin just in time for summer? Laser hair removal painlessly removes unwanted hair from the legs, bikini area, arms, face and other body areas using controlled laser heat to target the hair follicles, discouraging future hair growth. Because hair grows in cycles, several treatment sessions are needed to achieve the best results.
No matter what your needs or goals are, you can benefit from a good skin care regimen. At Aqua Plastic Surgery, we carry an array of medical-grade products from Obagi®, an advanced skin care line that uses natural botanical ingredients to nourish, repair and protect the skin. Speak to a member of our team to learn more about the Obagi sunscreens, moisturizers and anti-aging serums we offer in our office.
To discuss your skin care needs with Dr. Rankin or Dr. Vibhakar, please contact Aqua Plastic Surgery. Call our Jupiter office at (561) 776-2830, our Ft. Lauderdale office at (954) 564-3832 or our Miami office at (305) 918-1750.