Get Your Summer Body Now
Posted on January 25, 2017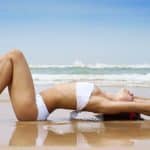 If one of your New Year's resolutions is to be bikini-ready by summer time, you're not alone. Every year around this time Drs. David Rankin and Dev Vibhakar of Aqua Plastic Surgery meet with countless patients seeking help to enhance their appearance in time for summer. In this blog post, we discuss the surgical and non-surgical treatment options Aqua Plastic Surgery offers for a beach-ready body.
Surgical Options
Liposuction. Considered to be the gold standard in fat removal, liposuction can be used to treat various body areas including the abdomen, thighs, hips, buttocks, upper arms and face. The procedure can also be combined with other body contouring procedures for a more toned and slim look.
Breast Augmentation. If you're having trouble filling in your bikini top, breast augmentation can help. Our surgeons can use autologous fat from another body area, or implants, to produce a fuller, more voluptuous chest.
Tummy Tuck. Get rid of a "muffin top" or "love handles" with tummy tuck surgery, which removes loose, flabby skin and fat for a flatter abdomen. The procedure can also repair weakened or damaged abdominal muscles following pregnancy.
Brazilian Butt Lift. This popular procedure uses unwanted fat from one body area (e.g., abdomen or back) to plump up the buttocks for a fuller, sexier look. Brazilian butt lift is great for men and women who have a saggy, flattened or naturally small behind.
Vaginal Rejuvenation. If you're embarrassed to wear a bikini bottom due to an elongated or unusually shaped labia, a vaginal rejuvenation procedure may help. By reshaping and resizing the labia, vaginal rejuvenation can restore a normal appearance to your bikini area and boost your self-confidence when wearing form-fitting clothing.
Male Breast Reduction. Gynecomastia (commonly referred to as "man boobs") is a medical condition that results in enlarged breast tissue in men. The only way to effectively treat the condition is through male breast reduction, which excises loose skin and removes unwanted fat from the chest area. The result is a flatter, more masculine-looking chest.
Non-Surgical Options
Laser Hair Removal. Are you tired of shaving or waxing every few weeks? Laser hair removal can help you get smooth, hairless skin just in time for summer. The procedure targets the hair follicles to discourage further hair growth. Several sessions are needed to get the best results, so book your appointment now!
CoolSculpting. This innovative procedure uses freezing technology to painlessly and safely eliminate unwanted fat cells. The body naturally eliminates the fat cells during subsequent weeks, resulting in a slimmer figure. Thanks to targeted cooling, CoolSculpting is virtually painless.
TruSculpt. TruSculpt is another minimally invasive fat removal procedure but with an added benefit. Using radiofrequency technology, TruSculpt can also temporarily reduce the appearance of cellulite, for a slimmer and smoother look. TruSculpt can be used to treat the abdomen, flanks, thighs, buttocks and other areas.
Schedule Your Consultation Today
To discuss your beach body concerns with a board certified plastic surgeon, please schedule an appointment with Aqua Plastic Surgery. Call our Jupiter office at (561) 776-2830 or our Ft. Lauderdale office at (954) 564-3832.