Can Liposuction Get Rid of Cellulite?
Posted on February 25, 2017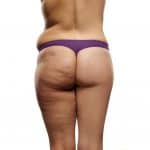 Well over 90 percent of all women have cellulite, the dimpled appearance on the skin that resembles cottage cheese or an orange peel. At Aqua Plastic Surgery, Drs. David Rankin and Dev Vibhakar meet with countless patients, many who struggle with cellulite. A common question the expert plastic surgeon fields from his patients is, "Can liposuction treat cellulite?" Here, we discuss the answer in detail.
Liposuction Is Not an Appropriate Solution for Cellulite
Liposuction is a surgical fat removal procedure designed to treat small pockets of fat that are resistant to exercise and diet. It can be used on various body areas including the abdomen, buttocks, hips, flanks, arms and thighs.
Cellulite occurs when bands of fibrous tissue found between the muscles and skin push pockets of fat into lumps, causing the overlying skin to appear dimpled and uneven. An effective treatment for cellulite treats the fibrous tissue that causes pockets of fat to move upward against the skin. Because liposuction only treats fat, it is not an effective solution for cellulite. In fact, it may worsen the appearance of cellulite. Some patients choose to combine liposuction with a lift procedure (e.g., body lift), which removes loose skin and tightens the remaining skin for a smoother appearance. A combination procedure may improve the appearance of cellulite, but only slightly.
A Better Solution for Cellulite
If you are embarrassed by the appearance of cellulite, Aqua Plastic Surgery offers an innovative fat removal solution that treats cellulite at the same time. The TruSculpt system is a revolutionary treatment that uses radiofrequency energy to remove pockets of fat and temporarily reduces the appearance of cellulite. The treatment can be used to sculpt multiple areas of the body including the abdomen, flanks, thighs and buttocks. Most patients need one to two treatment sessions to achieve their desired results. Because TruSculpt is minimally invasive, you can achieve a smooth and slimmer appearance without incisions, injections or downtime!
The best way to find out if TruSculpt (or liposuction) is right for you is by scheduling a personal consultation with a board certified plastic surgeon like Dr. Rankin and Dr. Vibhakar. Following an evaluation, the surgeons will make their recommendations on which treatment plan can help you achieve your desired look. To schedule your appointment, please call our Jupiter office at (561) 776-2830 or our Ft. Lauderdale office at (954) 564-3832.