Enjoy a More Beautiful Buttocks with Fat Transfer
Posted on July 15, 2015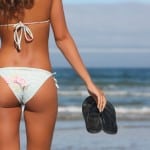 A beautiful backside has always been a priority for many people, but how they're getting it is changing. While butt implants are still popular, more Americans are choosing fat transfer, also known as the Brazilian Butt Lift, to get a fuller buttocks, according to the American Society of Plastic Surgeons. This procedure is popular among people who want to improve the appearance of their buttocks while getting rid of unwanted fat in another part of the body.
What is a Brazilian Butt Lift?
Inspired by the beautiful women of Brazil, the Brazilian Butt Lift improves the size and shape of the buttocks by adding fat taken from another part of the body, such as the abdomen, hips or back. Dr. David Rankin of Aqua Plastic Surgery specializes in Brazilian Butt Lifts. First, Dr. Rankin uses liposuction to remove the unwanted fat from the "donor" area. He  purifies the cells and then injects them into the buttocks to help you achieve the curvature and shape you desire.
What Are the Benefits of a Brazilian Butt Lift?
Perhaps the most appealing aspect of a Brazilian Butt Lift is you can achieve a better backside and lose fat in unwanted areas of the body all at the same time! Other benefits to the Brazilian Butt Lift are:
A natural look. The Brazilian Butt Lift only uses fat and tissue to boost the shape and size of your butt, meaning it's all natural.
Complete satisfaction: Before the procedure, Dr. Rankin will take the time to consult with you to determine how much augmentation and/or lift is best for your body.
Higher self-esteem: Having the buttocks you have always wanted gives you the self-confidence to wear the clothing you've always wanted to wear, and go to the places you've wanted to go.
Quick results: Achieving the perfect butt is not easy. Many people go to the gym to work on their butts, with little to no results. A Brazilian Butt Lift procedure only takes a couple of hours, and recovery time is usually one week to 10 days. This means you can enjoy your fuller buttocks in only a matter of days after the procedure.
For more information on how you can improve your physique with a Brazilian Butt Lift, schedule a consultation with Dr. David Rankin of Aqua Plastic Surgery.