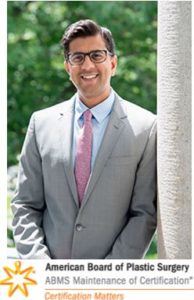 Dr. Dev Vibhakar is a Double Board Certified Cosmetic and Reconstructive Surgeon. Warmly referred to as Dr. Dev, he stands out as a young, eclectic and energetic plastic surgeon. The choice to pursue this career has been inspired by numerous experiences and people encountered throughout his training. However, the stimulus that started this journey was a personal one, as a patient at the young age of 16. A traumatic motor vehicle accident led Dr. Dev to be treated by a plastic surgeon who reconstructed his severely injured eye. The event impacted his life to treat similar and worse deformities almost 20 years after that incident.
A recent graduate of Harvard Medical School in Adult Facial Aesthetics and Reconstructive Surgery, he made his debut as a physician in osteopathic medicine in 2006. Guided by the philosophy that structure and function are interrelated, he pursued the path of mastering the bodily structure by becoming a surgeon. He is Board Certified in General Surgery, training which allowed him to develop skills to work meticulously under urgency and pressure. From 2012-2015 he trained as a Plastic and Reconstructive Surgery Resident at Temple University Hospital, learning from the top surgeons in Philadelphia.
While at the prestigious Harvard Medical School, Massachusetts General Hospital, Dr. Dev has received specialty training in Facial Aesthetic and Reconstructive Surgery. Under the guidance of renowned Dr. Yaremchuck, he learned from the pioneer in facial implants and craniofacial reconstruction the art of form and function.
Dr. Dev has published several peer-reviewed articles, abstracts and book chapters on the topics of breast surgery, reconstructive surgery, facial sculpting, nasal contouring and burns. He has received academic and research achievement awards, and continues to present his work at various regional and national meetings. Participating in conferences such as "The Cutting Edge" and "Oculoplastics and Breast Symposium", allows him to keep current with the latest techniques, technologies and engage in innovative solutions to improve the field.
Beyond academic work, he involves himself in humanitarian missions. Most recently the recipient of two scholarships, he completed a Microsurgery Cancer Reconstruction mission trip with Fox Chase Cancer Center to Nepal in 2014. He is scheduled to travel with Operation Smile as a Regan Scholar this fall.
What you will find with Dr. Dev is a compassionate human being, characterized by his sense of humor and attentiveness to your needs. He is excited to become a member of the Florida Community, a vision he has had ever since he started training. You will leave feeling better not only on the outside but also on the inside.