What Is a Nerve Block and Why Is It Used During Breast Explant?
Posted on September 27, 2018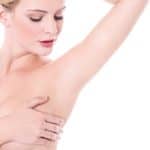 At Aqua Plastic Surgery, Drs. David Rankin and Dev Vibhakar are committed to making your breast explant experience as successful and comfortable as possible. This includes offering the option of performing a nerve block during surgery. Nerve blocks are a useful and increasingly common post-op pain management treatment option that can greatly enhance the post-recovery phase.
Here, our trusted South Florida plastic surgeons explain everything you need to know about nerve blocks.
How Nerve Blocks Work
A nerve block is an injection of numbing or anti-inflammatory medication that blocks or "turns off" pain signals traveling along a nerve or group of nerves before they reach the brain, stopping or minimizing pain in the treatment area. The first step in performing a nerve block is to locate the targeted nerve or nerves. Our team uses advanced imaging technology to determine the location that will allow the patient to receive the maximum benefits from the injection. The anesthetic medication is then administered via a thin, sterile needle in small, controlled doses. The number of injections varies from patient to patient. It takes about 15 to 20 minutes for the medication to take effect.
No special preparation is needed prior to having a nerve block. Before your surgery, you will meet with our board certified anesthesiologist who will review your medical history to ensure you are a candidate for a nerve block.
What Are the Benefits of a Nerve Block?
Since nerve blocks minimize pain and discomfort, they may also reduce or even eliminate the need for prescription pain medication after surgery. In addition, nerve block patients typically have better mobility and less post-op restrictions than those who did not have a nerve block performed during their surgery. Overall, nerve blocks offer a faster and more comfortable recovery for our breast explant patients.
Side effects with nerve blocks are very minimal. Soreness in the injection site is minor and temporary.
How Do I Learn More?
To find out more about breast explant surgery or what to expect during recovery, please schedule a consultation with Dr. David Rankin or Dr. Dev Vibhakar. Contact Aqua Plastic Surgery by calling our Jupiter office at (561) 776-2830, our Ft. Lauderdale office at (954) 564-3832 or our Miami office at (305) 918-1750.