How Will My Breasts Look After Explant Surgery?
Posted on October 27, 2018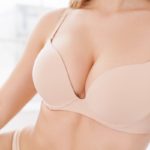 The goal of breast explant surgery is to safely remove breast implants while maintaining or restoring an attractive breast contour and appearance. Patients who do not want to replace their implants with a new pair (including women who experience symptoms of breast implant illness) have many questions about what their breasts will look like following explant surgery. Here, Aqua Plastic Surgery discusses the topic in detail, as well as the cosmetic treatment options we offer for a beautiful breast shape after breast implant removal.
What to Expect After Breast Explant
Most patients should not expect the breasts to return to their pre-augmentation state once the implants have been removed. This is because the placement of implants stretches the skin and the weight of implants does cause a degree of sag. Other factors can also cause variations in shape, size and position of the breasts following explant surgery. For instance, if the patient has gained significant weight since the initial breast augmentation surgery, breast volume may be slightly higher than it was before implants were placed. Aging, pregnancies and genetic factors can affect both the quality of the remaining breast tissue and skin elasticity, in turn compromising the appearance of the breasts.
Fortunately, working with a board certified breast explant surgeon can ensure a beautiful and natural breast appearance. When planning your explant surgery, Drs. David Rankin and Dev Vibhakar will take your unique specifications into consideration, including the quality of your breast tissue, skin elasticity and personal preferences.
Your Cosmetic Options After Having Your Breast Implants Removed
Breast explant can be performed alone or in conjunction with another breast procedure to produce superior aesthetic results. Breast lift can be incorporated to remove skin that has become stretched out as a result of the implants, aging or weight gain. The procedure also raises the breast higher on the chest wall for a perkier appearance and resizes stretched out areolas.
What if after having your implants removed you still desire larger, fuller breasts? Breast augmentation with fat transfer is a great and natural approach to enhance the size and fullness of the breasts. Fat transfer involves removing unwanted fat from one body area (e.g., abdomen or back), via liposuction, and transferring it to the breasts. The fat and tissue will be sculpted to create a flattering and attractive shape and size that the patient can feel happy and confident with.
To find out more information about breast explant surgery, please schedule a consultation with Dr. David Rankin or Dr. Dev Vibhakar. Contact Aqua Plastic Surgery by calling our Jupiter office at (561) 776-2830, our Ft. Lauderdale office at (954) 564-3832 or our our Miami office at (305) 918-1750.