Treat the Mom in Your Life to Mommy Makeover
Posted on April 17, 2014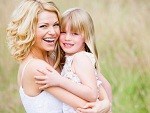 Motherhood is a blessing. However, pregnancy and breastfeeding can also wreak havoc on a woman's body. With Mother's Day about a month away, shouldn't you do something nice for the mom in your life? Whether she is your mother or the mother of your children, she deserves the best, so help her get her pre-baby body back with mommy makeover surgery.
What Mommy Makeover Entails
Mommy makeover surgery is not actually a single cosmetic procedure, but multiple procedures designed to improve the areas of the body that are often affected by pregnancy and breastfeeding, namely the abdominal area and the breasts.
Pregnancy can leave women with lax abdominal skin that has lost its elasticity as well as severely weakened or separated abdominal muscles. Thus, one component of mommy makeover is abdominoplasty, or "tummy tuck" surgery, which removes sagging excess skin from the abdominal area and repairs the underlying abdominal muscles.
In addition, breastfeeding can cause women's breasts to sag and their nipples to point toward the floor. Nursing can also cause the breasts to lose volume, often resulting in breasts that are deflated-looking or smaller than they were before nursing. That is why a second component of mommy makeover is usually breast lift and / or breast enhancement surgery.
One of the most appealing aspects of mommy makeover surgery is that Dr. Rankin can customize the procedure to meet the unique needs of the mom. For instance, he can include liposuction or buttock contouring surgery, if needed.
Mothers do so much for us every day. This upcoming Mother's Day, do something nice for the mom in your life and treat her to mommy makeover surgery!
To schedule a consultation with Dr. Rankin for the mother in your life or to learn more about mommy makeover, contact Aqua Plastic Surgery by calling (561) 776-2830 or (954) 564-3832.