Getting a Beach-Ready Body in Time for Summer
Posted on May 19, 2014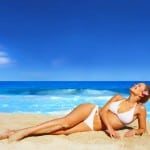 The first day of spring has passed, as have April Fool's Day and Easter. That means summer and the season's hotter temperatures are right around the corner! Is your figure beach ready? If not, do not worry. Dr. David Rankin at Aqua Plastic Surgery in Palm Beach County offers a range of cosmetic surgery and nonsurgical treatment options to help you achieve a beach-ready body in time for summer.
Breast Surgery
If you feel self-conscious about the size, shape or position of your breasts, Dr. Rankin can help. He offers several breast augmentation treatment options to enhance the volume of your breasts. You can choose from saline or silicone breast implants. Dr. Rankin offers breast lift surgery to elevate sagging breasts to a higher, more youthful position on the chest wall. He also provides breast reduction surgery to reduce the size of overly large, pendulous breasts.
Body Contouring Surgery
Perhaps you love your breasts, but wish certain areas of your body were more sculpted. If you have pockets of stubborn localized fat that are resistant to diet and exercise, you may benefit from liposuction. Liposuction is a great way to eliminate fat from your abdomen, hips, thighs, buttocks, back, upper arms and other areas, improving the contour of your pesky "problem areas."
With body contouring procedures such as abdominoplasty ("tummy tuck" surgery), thigh lift surgery and arm lift surgery, Dr. Rankin removes excess skin that has lost its elasticity and has started to sag. He also repairs any weakened or damaged supporting tissue structures to restore a svelte contour to the treatment area.
If you are not looking forward to trying on your bathing suit just yet, Dr. Rankin can help change that. He can find a suitable treatment option to help you get a beach-ready body in time for the summer months.
To schedule a personal consultation with Palm Beach plastic surgeon Dr. David Rankin, contact Aqua Plastic Surgery by calling (561) 776-2830 or (954) 564-3832.