Laser Tattoo Removal in Jupiter & Miami
In the early days of laser tattoo removal, the only methods were invasive procedures that oftentimes left scars or lighter skin behind. Instead of using dermabrasion, salabrasion, surgery or CO2 Lasers, doctors now are able to utilize the Q-switched Laser. The Q-switched laser is the newest and most effective form of tattoo removal, and is now offered by Dr. Rankin, Dr. Dev and Dr. Bauermeister at our plastic surgery offices.
How much does laser tattoo removal cost?
During your free consultation, our doctors will discuss the fees for the removal of your specific tattoo. Some of the factors affecting the cost include the color of the inks, the type of ink, and the depth of the tattoo. Unfortunately, a high quality, professional tattoo may require more treatments because there is more ink that is injected deeper beneath the skin.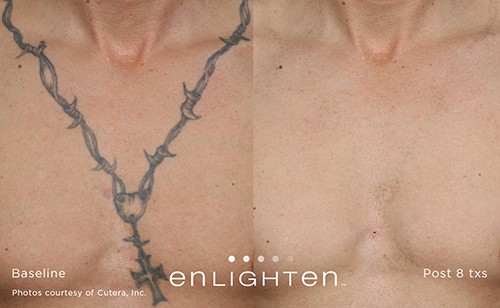 How many treatment sessions will it take to remove the tattoo?
Depending on the quality of the tattoo, as well as the color, type of ink, and the depth of ink, tattoos may require anywhere from 3 to 12 treatments. Low quality tattoos, like homemade ones, may require only 3-4 treatments, while deeper, more colorful, professional tattoos may take from 6-12 treatments. The appointments are spaced 4 to 8 weeks apart to allow proper healing time between treatments.


Do all colors of ink disappear equally as well?
No; dark (blue/black) inks and red inks fade best. Oranges, yellows, and purples usually respond well. Green and light teal/sky blue inks are the most difficult to remove, although multiple treatments can produce excellent results.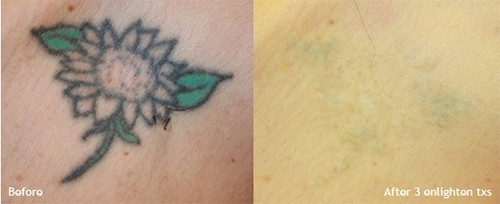 Will the tattoo disappear completely?
In many cases, yes the tattoo will disappear completely. There are over 100 tattoo inks in use worldwide, however, none of them are regulated by the FDA. This means that there is no way to guarantee the success of tattoo removal since it is difficult to know the type of ink used and how deep or how much was used.
Contact us today to set up your consultation, and see if tattoo removal is right for you.