What To Consider Before Getting a Tummy Tuck
Posted on June 28, 2018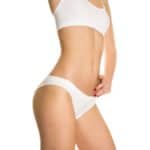 The success of tummy tuck surgery is dependent on several factors, including having realistic expectations. The more you know about what to expect from the procedure, the more you can prepare beforehand, and the better you can anticipate the results.
In this blog post, South Florida plastic surgeons Dr. David Rankin and Dr. Dev Vibhakar share some important facts to consider before getting a tummy tuck.
Tummy Tuck Is Not a Weight Loss Tool
One of the most common misconceptions about tummy tuck is that it can be used as a means to lose weight. The truth is, tummy tuck is not a weight loss tool. Instead, the procedure excises folds of excess skin and tightens the remaining skin and tissue for a smoother and firmer appearance.
Ideal candidates for tummy tuck are individuals who are at or near their ideal weight. If you wish to lose a large amount of weight, you should do so before or instead of getting tummy tuck.
Scarring Is Inevitable
Because tummy tuck involves removing excess skin and tissue from the abdomen, an incision must be made. In traditional tummy tuck, the incision is made from hip bone to hip bone, right above the pubic area. The good news is that your tummy tuck scar will fade over time until it is barely noticeable. To ensure the most beautiful results, be sure to work with an experienced and skilled plastic surgeon who uses the most advanced incision techniques. To get an idea of what results to expect (including scarring), view before-and-after photos of your plastic surgeon's past tummy tuck patients.
Future Weight Gain Can Alter Results
Gaining or losing a substantial amount of weight after tummy tuck can cause the abdominal muscles to separate and the skin to loosen and stretch out, effectively reversing the cosmetic effects of tummy tuck. For this reason, women are advised to postpone their tummy tuck until they are done having children. Patients should also be committed to preserving their results by maintaining a healthy and stable weight.
The Final Results are Not Immediate
Although some of the results of your tummy tuck will be visible immediately after your procedure, it will take several months (or even a year) for the final results to appear. This is because it takes several months for residual swelling to subside and your scar to heal. As you await your final results, it is important to follow your plastic surgeon's recovery instructions and be patient. The vast majority of tummy tuck patients agree: the slimming results of tummy tuck are well worth the wait!
To learn more about tummy tuck, schedule a consultation with one of our doctors. Contact Aqua Plastic Surgery by calling our Jupiter office at (561) 776-2830, our Ft. Lauderdale office at (954) 564-3832 or our Miami office at (305) 918-1750.