The Top Plastic Surgery Procedures According to ASPS
Posted on May 25, 2019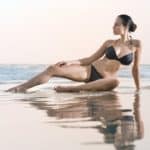 A new report from the American Society of Plastic Surgeons (ASPS) reveals that Americans spent more than $16.5 billion on cosmetic surgery in 2018. The report also revealed the top surgical and non-surgical procedures of the year, as well as some interesting statistics. The team at Aqua Plastic Surgery breaks down the report's findings in this blog post.
Top Cosmetic Surgical Procedures
More than 1.8 million cosmetic procedures were performed in 2018. The top five procedures were:
Breast augmentation (up 4 percent from 2017)
Liposuction (up 5 percent from 2017)
Rhinoplasty (down 2 percent from 2017)
Eyelid surgery (down 1 percent from 2017)
Tummy tuck (about the same as 2017)
Top Cosmetic Non-Surgical Procedures
There were a total of 15.9 million cosmetic non-surgical procedures in 2018. The top five were:
Botox (up 3 percent from 2017)
Soft tissue fillers (up 2 percent from 2017)
Chemical peels (up 1 percent since 2017)
Laser hair removal (down 1 percent from 2017)
Microdermabrasion (down 4 percent from 2017)
Body Contouring Procedures on the Rise
The ASPS found that there was a surge in body contouring procedures in 2018. For instance, Brazilian butt lift procedures increased by 19 percent from the previous year, while both liposuction and thigh lift increased by 5 percent.
Interest in non-surgical body sculpting and fat removal procedures also rose in 2018. Among the most popular non-surgical treatments is CoolSculpting, an in-office procedure that uses freezing technology to permanently destroy fat cells. Unlike liposuction and other surgical procedures, CoolSculpting does not use incisions or anesthesia. Treatment is virtually painless and there is no recovery or downtime needed.
Achieve Your Cosmetic Goals with Aqua Plastic Surgery
Whether you desire a subtle tweak or dramatic enhancement, let board-certified plastic surgeons Drs. David Rankin and Dev Vibhakar help. After meeting with you to evaluate your cosmetic needs and goals, the surgeons can recommend a treatment plan that achieves the best outcome.
Contact Aqua Plastic Surgery by calling our Jupiter office at (561) 776-2830, our Ft. Lauderdale office at (954) 564-3832 or our Miami office at (305) 918-1750.