Popular Plastic Surgery Procedures for Men
Posted on November 30, 2015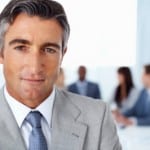 Women are not alone in wanting to turn back the clock to their younger days, appearance-wise. A recent study found that there has been a 43 percent increase in the amount of men having cosmetic procedures over the last five years. There are many reasons for this increase, including wanting to keep up with an increasingly competitive job market that often favors youthful candidates. Aside from their career, a lot of men simply wish to look as young as they feel, especially if they put in long hours exercising and watching their diet and wish to further enhance their fit physique. At Aqua Plastic Surgery, Dr. David Rankin has performed many plastic surgery procedures for his male clientele, and notices that the ones listed here are the most popular.
Botox
Botox is one of the most popular cosmetic procedures for men, who use this treatment as a nonsurgical option for facelift surgery to smooth out facial wrinkles. In fact, this anti-aging treatment is so popular with men that it has been coined "Brotox." It's easy to see why both men and women love Botox: it's a quick and painless treatment that takes less than 20 minutes to perform, requires no downtime and leaves the patient free of wrinkles that include crow's feet, forehead creases and the "11" lines between the eyebrows. The result is a younger-looking face that looks natural, and not pulled or fake. The beautiful results of Botox treatment typically last four to six months.
Male Breast Reduction
A significant number of men are unhappy with extra breast tissue, which gives them a more feminine-looking chest. Gynecomastia is a condition that causes extra breast tissue in men, which occurs as a result of hormone changes, obesity, certain types of medications and other factors. For these men, who are often self-conscious as a result, the male breast reduction procedure can help them to achieve a more masculine-looking chest. At Aqua Plastic Surgery, Dr. Rankin performs this surgery on an outpatient basis using liposuction through a small incision in each breast in order to remove excess breast tissue. The result is a flatter and fitter-looking chest that men feel more comfortable showing off shirtless.
Liposuction
Regardless of consistent exercise habits and a healthy diet, both men and women find that — especially as they get older — they have fat deposits that won't budge. For men, these stubborn areas often include the "spare tire" of fat around the waist, extra fat on the back and neck, as well as others. These men are the perfect candidate for liposuction, a body-sculpting procedure that removes not only the fat deposits but also the fat cells in the area so that fat bulges won't return. More and more men are using liposuction to smooth out their physique for a leaner, trimmer appearance. During his liposuction procedure, Dr. Rankin injects tumescent fluid into the treatment area; this surgical method results in a less painful procedure with less blood loss during surgery and less bruising, swelling and discomfort during recovery.
Schedule Your Consultation with Dr. Rankin
Are you a guy who's considering a cosmetic treatment, whether surgical or nonsurgical, but are unsure where to start? Dr. David Rankin has treated countless men at his practice, Aqua Plastic Surgery. Get your questions answered in a one-on-one consultation with the doctor by calling Aqua Plastic Surgery at (561) 776-2830 in Jupiter or (954) 564-3832 in Ft. Lauderdale.