Your Mommy Makeover Questions Answered
Posted on October 30, 2015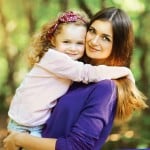 Maybe you've heard from friends who are also mothers about the "mommy makeover" procedure, and you're curious to learn more. Does it really get your body back to a "pre-pregnancy" shape? Can it really be the cure for drooping breasts, a stomach pooch and wobbly thighs and buttocks? Dr. Rankin has the answers here to the most common questions he receives about this remarkable body contouring surgery.
What is a Mommy Makeover?
There may be slight confusion as to what exactly a mommy makeover includes, so let's start with a definition. A mommy makeover is a combination of two or more plastic surgery procedures that are hand-picked and tailor-made to fit each individual mom and her specific body shaping needs as a result of the effects of childbearing and breastfeeding. The procedures that may be included in a mommy makeover are breast augmentation, breast lift, tummy tuck and liposuction.
How Long Should I Wait After Giving Birth Before Having a Mommy Makeover?
If you have recently given birth and are considering having a mommy makeover, it is recommended that you first let your body return to as normal a state as possible, and that you lose the majority of the weight gained during pregnancy. It is also recommended that you wait until approximately two to three months after you're finished breastfeeding before undergoing this surgery. This will allow you to heal at a faster rate and maintain optimal aesthetic results.
Should I Have a Mommy Makeover if I Still Plan to Have Children?
Whether you're finished adding to your family or you are not planning on getting pregnant again, you are still a candidate for a mommy makeover. However, most doctors recommend that a woman waits until she's done having children before going ahead with the surgery, as it allows for the most long-lasting results.
How Long is the Recovery Period after Surgery?
The length of your recovery period is dependent on the procedures, and also the extent of work, included in your mommy makeover surgery. The good news is that, unlike having multiple surgeries spaced out over time, you will only need one recovery period after a mommy makeover. This means less downtime where you are unable to work or take care of your children.
You will need help with taking care of your children and daily responsibilities for the first week after surgery. If you also work, plan to be off for about 10 to 14 days. These may sound like long lengths of time, but imagine double or triple these — the length of time it would take to recover from multiple surgeries spaced out over time, rather than combining them into one mommy makeover procedure.
What If I Have More Questions?
Are you interested in learning more about the mommy makeover procedure and how it can help you get back to your sexy, pre-pregnancy body? Schedule a consultation with Dr. David Rankin at Aqua Plastic Surgery by calling (561) 776-2830 or (954) 564-3832.