Gynecomastia: It's More Common Than You May Think
Posted on July 21, 2014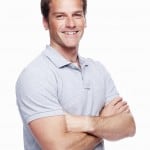 Fort Lauderdale / Jupiter plastic surgeon Dr. David Rankin recognizes that although an estimated 40 to 60 percent of males experience gynecomastia, or enlarged male breasts, at some point in their lives, it is not a condition that is often discussed. However, gynecomastia accounts for more than 65 percent of male breast disorders — it is more common than you may think.
Gynecomastia vs. Pseudo-gynecomastia
True clinical gynecomastia is characterized by enlarged glandular breast tissue in men. Pseudo-gynecomastia is typically characterized by excessive fat throughout the chest area, leading to the appearance of enlarged male breasts. Patients may also suffer from a combination of excessive glandular tissue and fat throughout the chest area.
While pseudo-gynecomastia is often the result of being overweight, clinical gynecomastia is usually caused by fluctuations in hormones. However, true gynecomastia can also be triggered by some types of medications, such as steroids, and drugs, such as marijuana. Gynecomastia often occurs during puberty, and can continue into adulthood. It is also common among older men.
The Psychological Effects of Gynecomastia
Unfortunately, gynecomastia can be more serious than a simple aesthetic concern for many males, especially for adolescents who may be teased or bullied because of their condition. A study published in Plastic and Reconstructive Surgery (the official journal of the American Society of Plastic Surgeons) in 2013 reported that adolescents with gynecomastia had significantly worse social functioning, self-esteem and overall mental health when compared to their healthy peers. The severity of the boys' gynecomastia did not influence the extent to which they were mentally and emotionally impacted by their condition. That is to say, even the slightest degree of gynecomastia can have damaging effects on the emotional wellbeing of male adolescents.
Gynecomastia Treatment Options
Fortunately, Jupiter / Fort Lauderdale cosmetic surgeon Dr. Rankin can help. He offers several surgical treatment options for enlarged male breasts. Your options depend on what is causing your enlarged male breasts. For instance, men with clinical gynecomastia usually require male breast reduction surgery involving the excision of glandular breast tissue — and in some cases, excess skin — from the chest area. Men with pseudo-gynecomastia may benefit from liposuction of the chest. Of course, Dr. Rankin can also combine treatment options for effective contouring of the chest area.
If you suffer from enlarged male breasts, do not put up with the problem any longer. Schedule a consultation with Dr. Rankin of Aqua Plastic Surgery so that he can evaluate your chest anatomy, discuss your aesthetic concerns and formulate a treatment plan to correct the look of your male breasts. To schedule a private consultation with Jupiter / Fort Lauderdale male breast reduction surgeon Dr. Rankin, contact Aqua Plastic Surgery by calling (561) 776-2830 or (954) 564-3832 today.