Also Offering CoolSculpting in Ft. Lauderdale and Miami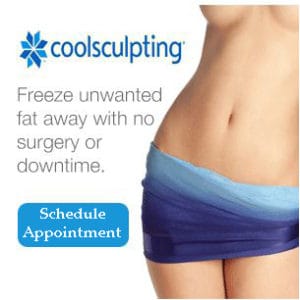 No matter what you do, stubborn fat still haunts your waistline. You've tried dieting; you've tried exercising, but you are still frustrated that you haven't achieved the results you desire. Liposuction is one option, but many women and men don't want to undergo surgery. So what's the alternative?
CoolSculpting is one of Aqua Plastic Surgery's most popular new alternatives to liposuction surgery and can help you achieve a sexier waistline. The innovative fat-freezing technology makes it one of the most effective and efficient treatment options available. This quick and painless procedure can help you achieve the look you want, with no surgery and no downtime.
If you want to learn more about CoolSculpting in South Florida or you are ready to discuss CoolSculpting with a board-certified plastic surgeon, contact us today to schedule your complimentary consultation.
What Is CoolSculpting?
CoolSculpting is an FDA-cleared alternative to liposuction that uses Cryolipolysis™ fat-freezing technology to kill unwanted fat cells safely and effectively. No anesthetic is needed, and no incisions are required. With targeted cooling, the treatment area is safely chilled to damage the fat cells without harming surrounding skin or tissue. During the weeks following your procedure, your body will naturally eliminate the damaged fat cells, leaving you looking slimmer and sexier. You will be ready to return to your daily schedule and lifestyle right after treatment.
How Does CoolSculpting Work?
When you come in for your CoolSculpting treatment, we will place a protective gel over the treatment area. Once you are comfortable, the CoolSculpting device will use a combination of gentle vacuum pressure and deep cooling to treat the fat below the skin and freeze unwanted fat cells.
Patients can usually sit comfortably while the device works, often reading a magazine or catching up on some emails. As a result of the cooling, you may feel some numbness during treatment, and the treatment area may be red afterward; however, this usually fades within a few hours. Most treatments take about one hour per treatment area. CoolSculpting can treat the waist, hips, inner and outer thighs, buttocks, abdomen, arms, back, flanks, "love handles" and even a "muffin top."
What Results Can I Expect?
CoolSculpting is ideal for smaller pockets of fat that are resistant to diet and exercise. It can effectively remove 20 to 30 percent of the fat in the treatment area after each treatment. However, CoolSculpting typically cannot treat larger areas as effectively as traditional tumescent liposuction can.
Results appear gradually during the weeks following the procedure, as your body uses its own natural waste-removal system to eliminate the damaged fat cells. Many patients benefit from multiple treatments spaced over a few months. Dr. Rankin, Dr. Dev or a member of his team will discuss with you the right number of treatments to meet your goals.
Who Is a Candidate for CoolSculpting?
Ideal candidates for CoolSculpting should be within 15 to 20 pounds of their ideal weight and should be otherwise healthy. The best candidates have small pockets of diet- and exercise-resistant fat that they want to remove. If your goal is to lose a great deal of weight, CoolSculpting may not be the best choice for you. Dr. Rankin, Dr. Dev or a member of his staff can discuss a customized treatment plan during your one-on-one consultation.