miraDry Hyperhidrosis Treatment in Jupiter & Miami
Also Offering miraDry in Ft. Lauderdale
Sweat has long been a necessary but undesirable bodily function. Sure, we need to find ways to cool down, and sweating accomplishes that. But the industry born of our attempts to control sweating speaks for itself. Sweat is unappealing, unwanted, and incredibly inconvenient.
It's simple enough for some to just apply deodorant, and see a reduction in sweat and odor. But those struggling with excessive sweating require something more serious.
Taming Your Hyperhidrosis
Hyperhidrosis (excessive sweat) can be due to many different genetic, medical, and mental causes, including: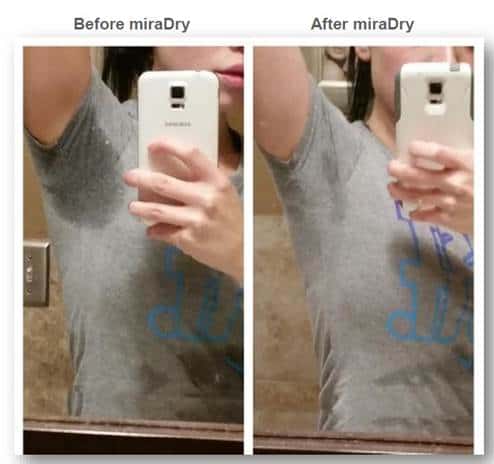 Genetic predisposition
Severe anxiety
Medications
Menopause / fluctuating hormonal levels
Low blood sugar
Thyroid problems
Some cancers
No matter the reason for your sweating, you want to get it resolved – and fixing what might be the underlying cause doesn't always cease your sweat. In addition to feeling uncomfortable and self-conscious in professional and social situations, patients who sweat excessively find themselves spending far too much on new clothes and attempts to control the sweat. Long-term hyperhidrosis can also cause physical problems like eczema, inflammation, and skin infections.
It's time to make a change. Instead of dealing with frustrating alternatives, miraDry goes right to the source: the sweat glands in the problem area.
Permanent Sweat Reduction Treatment
Until recently, sweat reduction treatment really only existed in 2 categories: surgical and temporary. Few patients are interested in the invasive and complex surgery that removes sweat glands. And the others become a slave to repeat treatments in order to tame their excessive sweat.
Enter miraDry. This exciting laser targets sweat glands and destroys them, leaving you dry and confident. The best part? These glands don't regenerate, leaving you with permanent sweat reduction. And permanent sweat reduction means the following:
Confidence boost – Who can feel at ease in professional or social settings when they're worried about sweat stains? You're exhausted by constant worrying over sweat, and we understand. Once your hyperhidrosis has been tamed, you'll be able to get through your days with confidence and without anxiety.
Heightened comfort – Constantly damp underarms just don't feel good. Once miraDry has helped dry the areas, you'll feel more like yourself and less like you are defined by your sweating.
Savings on clothes and sweat treatments – miraDry is an investment that pays off. Without sweat staining and damaging your clothing, you'll see your shirts and sweaters lasting far longer. You won't need to continue paying for medical-strength deodorant or for Botox treatments to the underarms. Instead, you'll just enjoy the freedom that miraDry brings into your life.

The miraDry Procedure
The miraDry laser delivers electromagnetic energy to underarm sweat glands, destroying some of the glands. Patients typically see ideal results with two treatments, at which point up to 82% of the glands have been destroyed. The procedure is not only powerful, but also quite comfortable – most patients feel only minimal heat during the procedure, and are able to return to regular activities right away. With local anesthetic, the area is slightly numbed and treatment proceeds without patient discomfort.
miraDry Aftercare
Avoid exercising and move arms gently for several days after treatment
You may see slight bruising, tenderness, or redness in the area
Temporary hair loss at the treatment area may occur
Our team will provide you with detailed aftercare instructions, and is always available to answer your questions.
We're thrilled to offer miraDry, and can't wait to tell you more. Simply contact Aqua Plastic Surgery to arrange a consultation.