Microneedling In South Florida
Providing Skin Care in Miami, Ft. Lauderdale, and Jupiter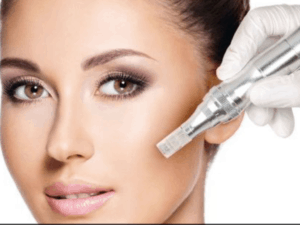 Microneedling is an exciting and innovative skin care treatment that is designed to minimize skin imperfections while simultaneously creating younger and healthier skin. The non-surgical procedure involves making tiny, controlled punctures in the skin to trigger the body's natural growth factors (i.e., collagen and elastin). Following microneedling, patients can enjoy healthier, younger-looking skin.
Aqua Plastic Surgery is committed to providing the latest and most innovative technology and treatments in skin rejuvenation. We are pleased to offer microneedling in Miami, Jupiter, and Ft. Lauderdale to cosmetic surgery patients seeking a more radiant and youthful complexion.
What Does Microneedling Treat?
Microneeding can be used to treat the following:
Fine lines and wrinkles
Sun damage
Skin laxity
Acne scars
Stretch marks
Hair loss
Large pores
Our dedicated staff can determine whether microneedling is a good option for you following an in-depth skin care analysis. Depending on your skin type, needs and goals, our team may recommend performing microneedling alone or in conjunction with other skin care treatments. Because microneedling helps skin care products penetrate more deeply, we can also recommend what products to use in order to enhance your results.
Treatment Details
Microneedling is performed at our state-of-the-art medspa office. Treatment is not painful. The target area is numbed with a topical agent beforehand to ensure the patient's full comfort.
Microneedling uses a pen-like instrument that has 12 to 36 micro-needles on its tip. A thin layer of serum is applied on the skin before the pen is moved gently across the skin's surface. The pen works by creating thousands of micro-channels (punctures) in the skin. This helps trigger the body's production of collagen and elastin for firmer and smoother skin.
Your microneedling treatment will be customized to your unique skin needs. The depth of the needle can be adjusted to cater to various skin thickness. This feature allows us to treat facial areas with thicker skin (e.g., cheeks and upper lip), and areas with thinner skin (e.g., forehead, décolletage and neck).
What to Expect After Microneedling
Downtime with microneedling is minimal. Your skin may appear slightly pink or moderately red for the first 24 hours after treatment. Our team can recommend skin care products to minimize these symptoms and enhance results. You should avoid wearing makeup and other skin products you use regularly for the first few days until cleared by our team.
Patients typically begin to notice results one to two weeks after treatment. For optimal results, most patients require three to six treatment sessions, which are typically spaced four weeks apart. Deep wrinkles, scarring and other severe skin damage may require more than six treatments. The new collagen and elastin produced by microneedling, and subsequent improvements on your skin, typically last for one year.
To learn more about microneedling and how it can help you turn back the clock on your appearance, please schedule a consultation with Aqua Plastic Surgery. Contact us at our Miami cosmetic surgery center by calling 305-918-1750, our Jupiter office by calling 561-776-2830, or our Ft. Lauderdale office by calling 954-564-3832.